Snapshot of Your Wedding Weekend
H

ere is a snapshot of your wedding weekend:
The day you arrive at Gold Mountain Manor, you and your guests are greeted by the aroma of our freshly baked chocolate chip oatmeal cookies. Enjoy our signature garden fresh mint lemonade and sweet iced mint tea as well as hot cocoa, hot tea, hot cider or coffee.
As your guests arrive, we will warmly welcome them with an orientation to the property and show everyone to their fabulous rooms and suites. Can you hear all those oohs and ahhs? Milk Bath too?? Wow!!
When the wedding party and officiate arrive, the coordinator will walk you through your rehearsal. Uh-oh! Little Johnny had to go to the bathroom, lets do it again. Uh-oh! Fido just ran off, let's do it again! Uh-oh, the groom forgot his vows at home! Quick someone find his smart phone and do it again…
Now you are off to enjoy your rehearsal dinner/get-together whether it's a boat ride on the lake (does everyone have a jacket?), or at a restaurant, wine bar, or here at the Manor.
When you return to your home (at the Manor) your guests will make hot tea, cocoa and popcorn, play pool in the Billiards Room, play hide and seek (yes, even the adults) and other games, gaze at the stars outside and converse with all your loved ones. Then you are off to get a good nights sleep. You have a big day tomorrow!
Wake Up!! It's the day of your wedding. Smell the freshly brewed coffee and saunter down stairs. Grab your mug of coffee or hot tea and head out to the veranda as the early morning sun streams across the grounds. Bask in the brilliant blue skies and guaranteed sunshine and take a moment to meander through the lush green lawn on your way to the hammock. Mom and your best friend join you in the hammock as you share special moments before your celebration begins. Or maybe you'll do some yoga with your girlfriends in the grass before breakfast. As you wander back to the Mansion, your gourmet breakfast is being prepared.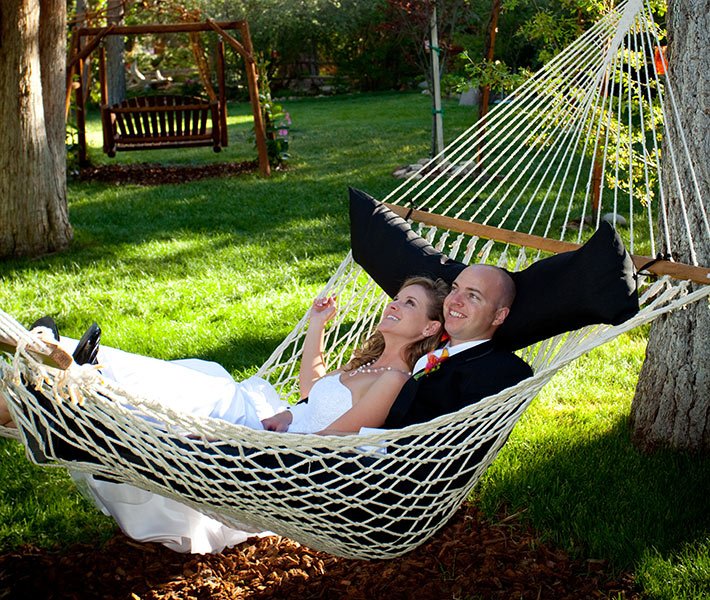 Oh, it smells and looks great! Our homemade yogurt, granola and heaping bowls of fruit grace the tables. As your guests appear for breakfast (in PJ's and our robes), there is laughing and hugging and story-telling. Next the hot entrees appear, perhaps a chili cheese egg and sausage strata with rosemary roasted potatoes; or a farm fresh egg and vegetable stuffed Portobello mushroom with fresh basil; or a croissant stuffed with strawberries and bananas, turned into French toast, alongside a pumpkin pancake and thick cut bacon. Yumm!!

It's time to get ready! Your hair and makeup team are waiting in your suite. Oh, you asked for champagne glasses, we will be right down! After the guys picked up the ice, they sneaked off for a quick hike up Gold Mountain. Now that they are ready (so handsome), they are all playing pool and the photographers are catching their playfulness and camaraderie on film for you to enjoy later! They are about to capture the last moments of lacing your gown, slipping on your heels, and your mom doing the clasp on your dress?
Are you ready? Bouquets in hand, boutonnière's on and we have all your bridesmaids, groomsmen, parents, flower girls and ring bearers corralled and ready to walk down the aisle. Music starts and your walk begins! "You look beautiful"!!
After the ceremony while you take pictures, your guests will enjoy appetizers and drinks and maybe a photo booth or a corn hole toss or an "Amazing Race" frolic! Your photographers want to take special images of you in the forest (1/2 block away) and at the Lake. If you need us, we'll go with you! Wow! They turned out spectacular!
Back at the Manor, all chairs and tables are in place and its time to eat and drink and be toasted by your family and friends.
Time for your first and special dances. Not a "dry eye" at the Manor…Cake cutting, dessert time, bouquet and garter toss all occur. As the day turns into twilight and the sky fades from cobalt blue to lavender and pink (your photographer grabs you for a sunset picture) all the twinkle lights magically come on, as the sky darkens to nightfall.
Dance away under the star studded sky. Please just one last image – the signature shots of you in the secret garden surrounded by twinkle lights and under the lit arch. Perfect! Thanks! Time to say goodbye to your guests. Your friends and family who are lucky enough to be staying at the Manor have come inside for a last game of pool, guitar playing and a final night cap. Good night!! And wasn't today Magical? We thought so too! All night your guests have said "This was the most beautiful wedding I've ever been to"!

Today you awake as a married couple, so take a few minutes in your suite to re-live your favorite memories of the day. Come on down to another delicious breakfast with your family and guests as you wrap up your amazing Gold Mountain Manor Wedding weekend!

Okay! One last picture on the stone steps of the Manor, more hugs and we will see you next year on your anniversary!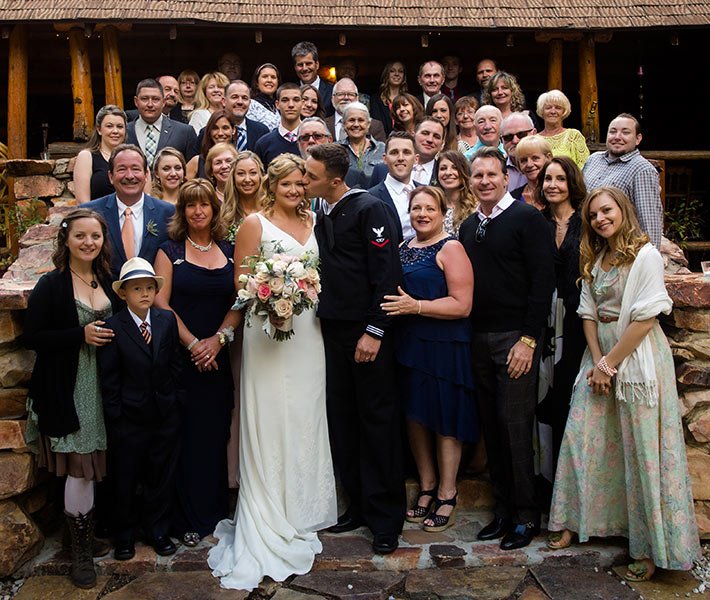 We want to say a special thank you to our amazing photographic partners for the use of their images. We highly recommend their services.
Jenna and Steve O'Keefe at O'Keefe Photography (909) 996-0929
Matt Allende at DeVende Photography (626) 616-5537
Louis Weiner at Louis Weiner Photography (909) 557-4275
Greg Zook at Zook Photography (714) 809-4309